Family of the Year
This award is intended to celebrate the supportive role parents and families play in the lives of students and the University community. Honoring outstanding families helps remind the East Carolina University community that they are an essential part of the support network for our students.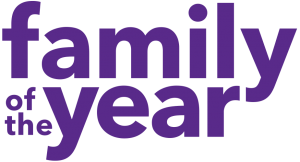 Nominations will close April 28, 2023!
The selected family will be honored during Family Weekend, September 22-24. The Family of the Year will receive tickets to Family Weekend events, including the Family Weekend Tailgate and football game. The family will raise the "No Quarter" flag during the football game. The student will receive a $500 book scholarship to Dowdy Student Stores, and the family will be presented with a plaque during Family Weekend. Additionally, the family will ride in the ECU Homecoming Parade, October 21. The winning family will also be featured in the Parent & Family Programs monthly newsletter and social media accounts.
Eligibility 
ALL families, parents or family members of current students are eligible for nomination regardless of alumni status or state of residence.  Families may self-nominate. 
 Submission Guidelines
Upload photo and statement of nomination
Criteria for Submission
Photos should be jpg. file format
Statement of nomination must be 1000 words or less.
Award Selection
A panel of judges will review all submissions based on Creativity, Family Support, Enthusiasm, and Execution.
---
Past Recipients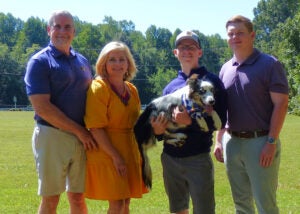 2023-2024: Blake Solomonson Family
Congratulations to the 2023-2024 Family of the Year Award recipients, the Blake Solomonson Family! The Blake Solomonson Family was nominated by mom, Rebecca. The family's ties to East Carolina run deep. Rebecca's husband, Rich Belthoff, is an alumnus of East Carolina. Rich graduated in 1980 with his criminal justice degree. He still maintains relationships with faculty and fellow classmates from his criminal justice program. They have another Pirate in their house, their son Blake Solomonson. Blake began at East Carolina in the Fall of 2022. Unfortunately, tragedy struck six weeks into Blake's first semester. After going on a run, Blake suffered a cardiac arrest. Thankfully, through the heroics of fellow students and paramedics, Blake was able to be resuscitated and was transported to ECU Health. Blake endured two surgeries and had a permanent defibrillator implanted. Blake passed his three-month cardiac rehab with flying colors and sometimes returns home to help other cardiac patients with their rehab journeys. Blake had to withdraw from his courses at the time but was able to reenroll in online courses at the end of last year and has returned to ECU for in person Fall 2023 classes! Rebecca would like to thank the Dean of Student's Office, Campus Police, the medical staff at ECU Health, the two students that helped save Blake's life, and for East Carolina's continuous support of their family during this difficult time.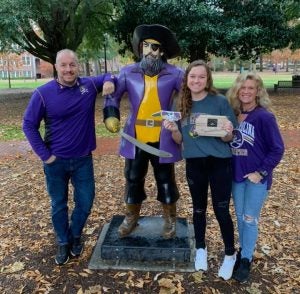 2022-2023: Creech Family
Congratulations to the Creech family, our 2022-2023 Family of the Year award recipients! The Creech family was nominated by mom, Barnanne. Barnanne was inspired to submit the family's nomination by their daughter, Whitley. Whiltley is a 4th generation ECU Pirate. Her dad, mother, and grandmother each attended and graduated from East Carolina University. Whitley began her journey at ECU in 2020 when she moved into her freshman dorm. Barnanne says, "during times of transition like during Whitley's freshman year due to COVID, we have been Whitley's sounding board and biggest cheerleaders. From her acceptance letter day, to her staggered dorm move-in, to an abrupt campus close move out and then quick move back in, we have been there through all the highs and lows of a crazy freshmen year." Whitley is now a rising junior and an active member of the ECU Club Cheer team. Barnanne is currently serving on the ECU Board of Volunteers.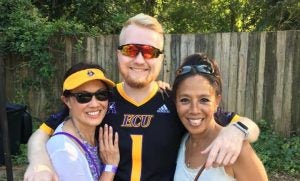 2021-2022: Almachar-Gottlieb Family
Congratulations to the 2021-2022 Family of the Year, the Almachar-Gottlieb family! The Almachar-Gottlieb family has been involved with ECU and the Office of Parent and Family Programs for the past 4 years. Mom, Leahmarie is a dedicated volunteer with Parent and Family Program. She has participated in Pirate Aboard Days, Orientation, Student Memorial Ceremonies, Family Weekends and Diversity Panels. Leah's dedication to East Carolina has not stopped at event volunteerism. She has served on the Parents Fund Grant selection committee and is currently a member of the Student Affairs Advancement Council, along with her sister, Gigi. Leahmarie's son, Phillip, will graduate Spring 2022 with a bachelor's degree in Construction Management.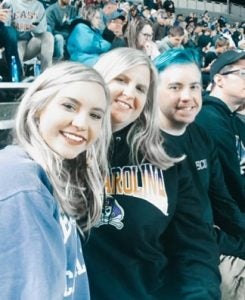 2020-2021: Warlick Family
Congratulations to the Warlick family who was nominated by mom, Crystal. Crystal was inspired to submit their nomination by her daughter Riley. Riley is a senior studying Kinesiology with a minor in Psychology and will graduate this Fall. Riley's determination and focus on receiving her education lead her to ECU, much farther away than mom wanted. Crystal says, "her defiance and perseverance would see her through, Riley has perused her degree and successfully gained a home at ECU. I too have gained a home."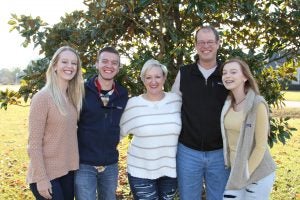 2019-2020: Kornegay Family
Congratulations to the Kornegay Family who were announced as the 2019-2020 Family of the Year. The Kornegay Family was nominated by daughter Brittney, a 3rd year dental student at ECU School of Dental Medicine. She is currently the vice president of ECU's chapter of the Academy of General Dentistry. The Kornegay family is just as involved at ECU as Brittney. Jordan Kornegay is a senior Business major who is expected to graduate in December 2019. Their father, Hervy graduated in 1990 and in 1994 from ECU School of Medicine as a Brody Scholar. He, along with his wife, Viki, and daughter, Hannah, live in Goldsboro. They continue to be active members of their community and in the state of North Carolina, carrying out the mission to serve and inspire positive change.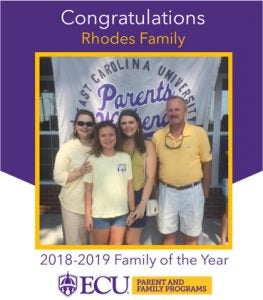 2018-2019: Rhodes Family
Congratulations to the Rhodes Family who were announced as the 2018-2019 Family of the Year, during the Parents Council spring meeting on Saturday, March 24. The Rhodes Family was nominated by daughter Lillie Rhodes, a Junior Honors College student. Lillie is involved on campus as a member of Phi Mu sorority, and was recently elected to be the Student Body Vice President. Lillie's family is equally involved with ECU. Her father, Donald is a four-time graduate. He, along with her mother Sara Beth and sister, live in Pitt County and support the university through fundraisers and student support initiatives in the Honors College.
The Family of the Year award is intended to celebrate the supportive role parents and families play in the lives of students and the University community. Honoring outstanding parents and families helps remind the ECU community that families are an essential part of the support network for our students.
2017-2018: Faulconer Family


Linwood and Johna Faulconer, parents of Lilian (ECU student) and Ethan (high school) from Smithfield, NC. Linwood and Johna served as Co-Presidents of the ECU Parents Advisory Council 2015-2017. Linwood is a NC State alum, and devoted time and service to East Carolina upon his daughter's acceptance. Johna received the Student Affairs Vice Chancellor's Advocacy Award at the 2017 Corporate & Leadership Awards Ceremony, is an ECU Alum, and currently works in the College of Education as an Associate Professor and Associate Chair in the Department of Literacy Studies, English Education, and History Education. She was also recently appointed to the ECU Board of Visitors. Lily is an EC Scholar, former Miss Kinston (2016), Robert H. Wright Award Recipient (2017), Political Science Outstanding Senior Award (2017), graduated Spring 2017 with dual degrees and certificate in 3 years. Will continue education at ECU for Master's Degree. Ethan recently graduated high school and will begin his freshmen year at NC State this fall.
2016-2017: Bryant Family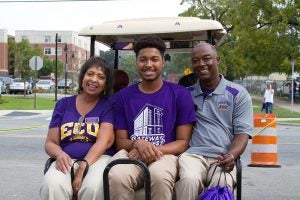 2015-2016: Tinglestad Family